About alcoholic beverages delivery
The delivery method of alcoholic beverage varies depending on the degree of alcohol of the content. 
In addition, there may be import restrictions depending on the destination country, please confirm before purchase. 
Drinks with 24% alcohol content or less are delivered by Japan Post
Beverage less than 24% ABV
ex:Wine / Japanese sake / Beer
Deliver by Japan postal service (EMS/international parcel post etc.).
Drinks with 24.1% alcohol content or above are delivered by DHL
Beverages more than 24.1% ABV
ex:Whisky / Cognac / Brandy
Send by DHL.
When sending alcoholic drink to China/Taiwan by DHL, please check the following details.
Delivery to China with
DHL
Multiple bottles will be separated into several packages
DHL is unable to ship packages containing more than one bottle of alcoholic content to China.
If more than one bottle of alcohol beverage contained in 1 box, they will be distributed into different boxes separately.
Delivery to Taiwan with
DHL
Adjusted and delivered within the range of personal limit
There is a limit to the quantity of alcoholic beverages per person when shipping to Taiwan by DHL.
If multiple products have been purchased, the shipping date may be adjusted to ensure each package adheres to the above rules and able to clear customs.
Other limitations
Please be aware that the following countries have special delivery restrictions.
▶︎ Countries that can only be shipped via DHL

DHL only (all alcoholic beverages below 60% ABV)

Austria / Finland

▶︎ Countries that can only be shipped via Japan Post

Alcohol at 24% ABV or below can only be delivered via Japan Post (Alcohol above 24% ABV cannot be shipped overseas)

Belgium / Germany / Luxembourg / Vietnam

▶︎ Countries where alcoholic beverages are not allowed to import

The countries below prohibit the import of alcoholic beverages, therefore customers may need to send alcohol beverages domestically within Japan.

[WARNING] If any Mercari items are included in a package, delivery within Japan will not be possible.

Argentina / Belarus / Brazil / Brunei / Cambodia
Canada / Guam / India / Italy / Philippines / Russia
Saudi Arabia / United States of America / France / Sweden
About beverage packaging when shipping via DHL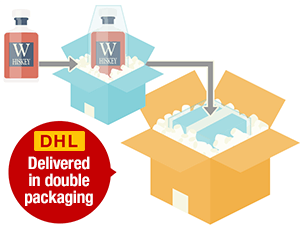 DHL use unique packaging standards in order to avoid damage to other item during shipping. 
If packaging could not meet the following packaging standards, DHL will refuse to accept the item, therefore Buyee will follow the packaging standard when packing and shipping items. 
Shipping boxes will be piled up with buffer material, therefore the weight and size of packaging are heavier and larger than usual box. 
Appreciate your understanding and cooperation.